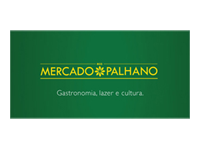 The Ecomarket Palhano is a new concept of food retail. While brings back the convenience of traditional farmers markets, combines the modern and bold architectural style, services focused areas, diverse cuisine and cultural activities to local citizens and visitors from cities in the region.
Fonte www.mercadopalhano.com.br
Master Ambiental participated in this project by conducting:
LEED Certification;
Environmental Licensing;
PGRCC – construction waste management;
PGRS – waste management plan;
Looking for to bring back the traditional concept of farmers markets, The Palhano Ecomarket was born with the intention of minimizing the environmental impact, in a booming neighborhood on the Lake Igapó edge.
The interactivity of the building with the Lake Igapó, the use of natural light and ventilation and the usage of local materials were determining factors. However, the project of the architect Guilherme Torres also looks to integrate other characteristics of a sustainable building, according to the standards proposed by the USGBC (United States Green Building Council) to obtain LEED Core & Shell. Demolition wood, concrete, bricks and a green wall that will cover a large part of the facade were elected by the constructer Raul Fulgencio and Master Ambiental for the Ecomarket structure.
Sustainable practices are present since the first studies until its implementation, as conscious waste disposal, reuse and recycling of materials. The project also provides bike racks with changing rooms, exclusive parking spots for biofuel-powered vehicles, located in a consolidated area: more than 10 basic services within a radius of 800 meters and total prohibition of smoking, among other items.
Important aspects of the project:
Rainwater harvesting and reuse for irrigation of gardens and sanitary functions.
---
https://www.masterambiental.com.br/wp-content/uploads/2012/03/logo2-copy.png
150
200
Master Ambiental
https://masterambiental.com.br/wp-content/uploads/2015/09/logo-master-ambiental-consultoria-ambiental.png
Master Ambiental
2012-03-26 13:10:18
2016-02-02 17:18:24
Ecomarket Palhano